Draft breakdown: How the disadvantaged Cowboys landed steal after steal
Good process—and a lot of luck—helped Dallas outperform expectations with virtually every pick.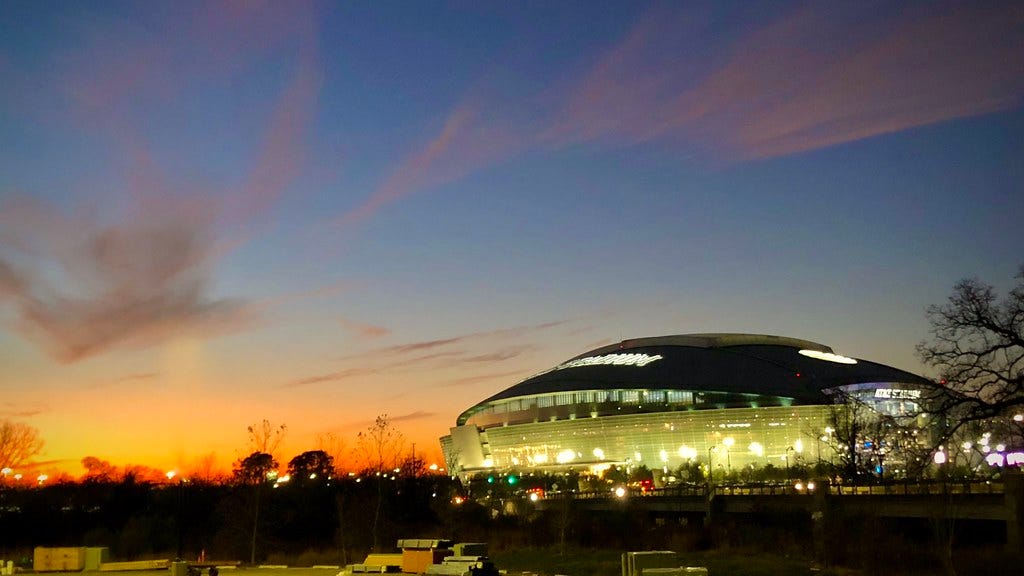 Help me grow the Cowboys Stats Newsletter by signing up for the free email list at the blue button below. Thanks again!
—Daniel H.
---
When the Dallas Cowboys scooped up a falling CeeDee Lamb in the first round of the 2020 NFL draft, it was only the first step toward erasing their steep disadvantage in draft resources.
As I mentioned in my recent draft preview, the Cowboys entered with only the 19th-most draft capital in the league—which placed them dead last in the NFC East.
But by the time it was over, the Cowboys came out with a surprisingly competitive draft haul, leapfrogging Washington and possibly Philadelphia in total draft value while landing much closer than expected to the capital-rich Giants.
How did they do it? By holding the line, avoiding the temptation to trade up, and pulling the trigger on players who—through, in some cases, sheer luck—fell far from the spots where they were expected to go.
The Cowboys added more total surplus value above their draft position than any other team, according to Benjamin Robinson of Grinding the Mocks. By my own estimate, they came away with 26% more value than selections at those spots are usually worth—the rough equivalent of being gifted a late first-round pick.
Now, this notion of surplus value doesn't guarantee their draft class will be successful. Draft prospects are notoriously hard to project from college to the pros. Also, a lot of teams came away with more players than the Cowboys, or had picks that were better positioned near the top of each round.
But the team's ability to land steal after steal—and avoid reaching for players further down the board—likely improves their chances of adding meaningful contributors to their roster from the 2020 class.
Breaking down the Cowboys picks
I based this analysis on three main concepts:
The player's expected draft position, according to Grinding the Mocks

The player's prospect rank on the Pro Football Focus big board

The value of the pick itself, according to an Over The Cap analysis of second contracts given to players taken at each draft slot from 2011 to 2015
In the chart below, you can see how five of the Cowboys' seven draft selections were expected to go significantly higher than they did.
To help visualize what I mean by "surplus value," it's basically the vertical distance between each selection and the red dotted line, which represents that pick's estimated value in a typical draft.
The further above that line a player is, the more draft position surplus value he provides.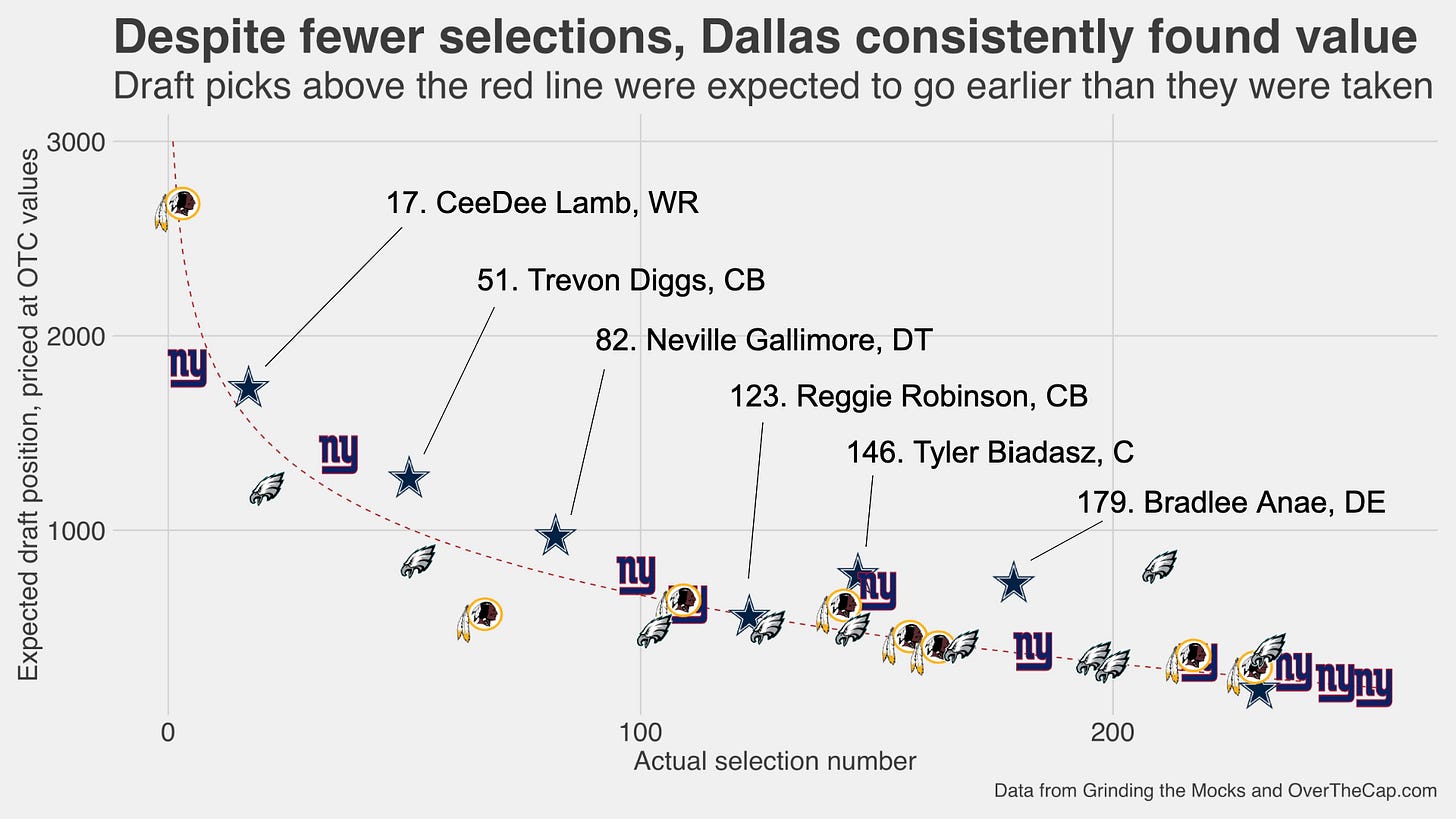 Here's how the numbers played out with each pick.
17. CeeDee Lamb, WR
Expected draft position: 12th
Draft position surplus: +11%
PFF board surplus: +34%
This electric wide receiver prospect from Oklahoma was ranked in the Top 6 of many draft boards, including PFF's. But despite this high ranking, there was always an outside chance Lamb would fall a bit, depending on how the first 10 picks shook out and the quality of other receivers in this draft class. The Cowboys had a choice to fill a need at a less important position by taking edge rusher K'Lavon Chaisson, but opted instead to add Lamb to their already dangerous stable of pass weapons.
51. Trevon Diggs, CB
Expected draft position: 30th
Draft position surplus: +27%
PFF board surplus: +25%
Diggs was a name I liked a lot in a trade-down scenario or even at pick No. 17, given that he was mocked as a late first-rounder and plays one of the league's most important positions. The Cowboys came into this draft in desperate need of cornerback help, with only one experienced corner under contract beyond the 2020 season. I was shocked Diggs was still available at pick No. 51 in the second round. By their own admission, the Cowboys were too.
82. Neville Gallimore, DT
Expected draft position: 54th
Draft position surplus: +28%
PFF board surplus: +31%
While I'm not always in favor of targeting the defensive line with a Top 100 pick, due to our updated understanding of positional value, Gallimore was a consensus second-round-quality prospect that fell to the Cowboys in the third round. Pass rush may not be as crucially involved in a team's pass defense results as coverage is, but it remains influential. Drafting a falling tackle here instead of reaching for him earlier or drafting him at face value also feels like better process than we've seen from the Cowboys in years past when it comes to addressing needs on the defensive line.
123. Reggie Robinson, CB
Expected draft position: 122nd
Draft position surplus: +1%
PFF board surplus: -49%
This cornerback was one of the most interesting Cowboys decisions of the draft, for me. You can see he's the only Cowboys pick, aside from their eventual seventh-rounder, who was drafted roughly where he was expected to go. He was also pretty far down PFF's board; they had him ranked 211th overall. This pick is even more notable because their next two selections—a center and an edge defender—were both originally projected to go before the Cowboys selected here, making them prime candidates to go here as well. Instead, Dallas went with Robinson, the corner. As I mentioned earlier, cornerback is one of the most important positions on defense, and was one of the Cowboys' biggest needs. It's also likely that the Cowboys had a higher grade on Robinson than the public did coming into the draft. Either way, they may have felt like this was their last chance to draft a corner of this quality.
146. Tyler Biadasz, C
Expected draft position: 80th
Draft position surplus: +64%
PFF board surplus: +55%
The former Wisconsin Badger once projected consistently as a first-round pick until roughly January, when his injury history started to spook mock drafters and, evidently, NFL teams. By the time of the draft, he was being projected on average to be taken around the 80th pick, which made him yet another great value for the Cowboys to scoop up. He'll have a chance to compete long-term for the starting center position vacated by Travis Frederick, who retired earlier this offseason.
179. Bradlee Anae, DE
Expected draft position: 87th
Draft position surplus: +99%
PFF board surplus: +44%
This physical edge rusher was a fan favorite on Twitter, especially when it became clear he could fall to the Cowboys. When the Cowboys traded up in the fifth round, some thought they might have been targeting Anae instead of Biadasz. The team ended up with both.
231. Ben DiNucci, QB
Expected draft position: Undrafted
Draft position surplus: Negative (N/A value)
PFF board surplus: Negative (N/A value)
The James Madison quarterback was the Cowboys last pick in the draft, and was likely a guy they didn't want to risk signing with another team in the post-draft free agency period. He rounds out the Cowboys draft class as a player who put up great performances against admittedly subpar competition in college. He also plays far and away the league's most important position.
How the NFC East stacked up
While the Cowboys arguably made the most of the picks they had, the Giants likely came away with the most NFL-caliber contributors.
This was expected. The Giants had the most valuable pool of draft capital in the division—10 picks, including the fourth-overall selection in the first round. They also did well with what they had, slightly outperforming their draft slots in expected draft position, and according to PFF's board. While offensive tackle Andrew Thomas may have been a slight reach at No. 4, the Giants more than made up for it when safety Xavier McKinney fell to them at No. 36.
Washington, on the other hand, came in with the division's second-most draft capital and left with the least impressive total draft haul by both measures I used. Edge defender Chase Young was an obviously deserving use of the No. 2 pick for them, although perhaps not the best use. A top quarterback prospect or possible trade down would have probably seen them come away with a better haul. Both methods I used also panned the third-round selection of Antonio Gibson, PFF's 97th-ranked prospect who was expected to go even lower than that in most mock scenarios.
The two approaches I used here disagreed strongly on the Eagles draft, which I thought was interesting. On average, the Eagles drafted players about where you would have expected, with some picks qualifying as steals and others considered reaches based on pre-draft mocks.
But PFF was much higher on what the Eagles did with their resources than pre-draft mocks were. Notably, the PFF big board thought wideout Jalen Reagor deserved to go where he was taken at pick No. 21 (despite Reagor's average mock position of 34). PFF also thought the Eagles got excellent value in the middle rounds by taking safety K'Von Wallace, offensive tackle Jack Driscoll and wide receiver John Hightower.
Of the Eagles picks, Jalen Hurts and Davion Taylor were viewed as reaches according to both methods, although this doesn't consider the high positional value of the quarterback Hurts on a team with an injury history at the position.
Altogether, the big picture is that the Giants probably did the most among NFC East teams to improve their roster in the draft, based on what little we know today. The Cowboys and Eagles are likely jockeying for the second-best chances at ending up with a good draft class, with Washington finishing a disappointing fourth based on both methods.
Honestly, given where the Cowboys came in, it's hard to be more pleased with this draft from a fan's perspective. They could have possibly pursued some trade down opportunities—something I advocated strongly for before the draft. But in this unique case, it's unclear whether the value they would have added via one or two trades would have surpassed that of drafting all these falling prospects where they did.
Time will tell whether it works out for them.
Bonus list: NFC East picks with highest total surplus value, combining PFF board rank and OTC values
CeeDee Lamb—DAL

K'Von Wallace—PHI

Xavier McKinney—NYG

Jack Driscoll—PHI

Tyler Biadasz—DAL

John Hightower—PHI

Trevon Diggs—DAL

Neville Gallimore—DAL

Carter Coughlin—NYG

Bradlee Anae—DAL
Photo credit: "IMG_4151" by Joe D. Photography is licensed under CC BY-NC 2.0
Correction: Washington drafted Antonio Gibson in the third round, not the second.