2020 Cowboys draft: An analytics-based preview
What the numbers can—and, more importantly, can't—tell us about the NFL draft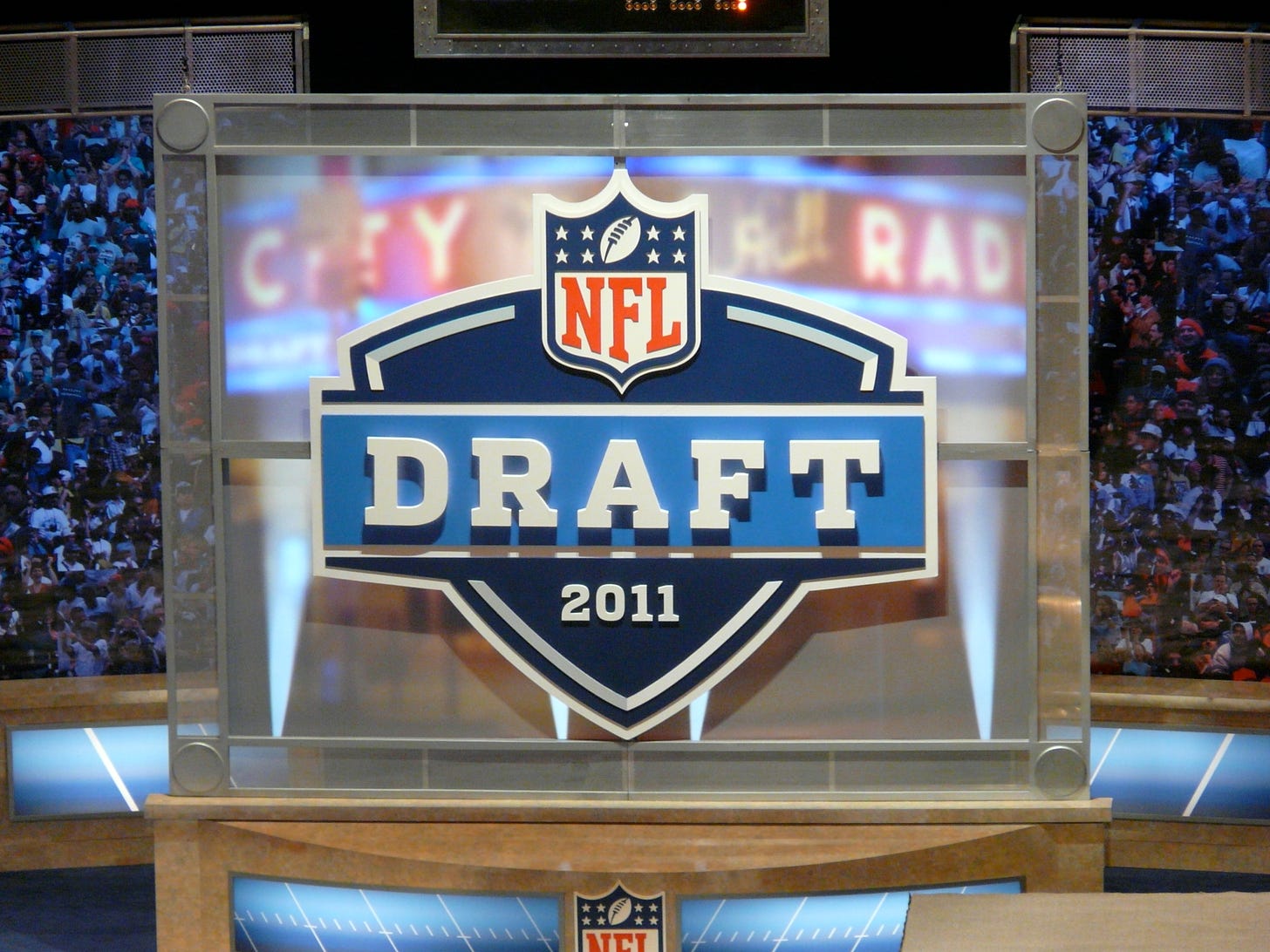 Help me grow the Cowboys Stats Newsletter by signing up for the free email list at the blue button below. Thank you!
---
The NFL draft is a chaotic, high-stakes mess of an event. Teams are routinely forced to make franchise-altering decisions based on highly imperfect information.
It's awesome.
Making sense of the draft as it unfolds is notoriously difficult, even for seasoned draft analysts with first-hand knowledge of individual prospects. For less plugged-in fans like me, it's even tougher.
But we can still sift through at least some of the noise, using history as a guide. I've compiled a few principles that I'm fairly confident in, based on some of the most compelling public research that's been done on the NFL draft.
Note: These rules of thumb are not a substitute for sound player evaluation. It's assumed that team personnel departments are quite good at identifying talent, especially given the difficulties inherent in the process. Instead, these rules can be a guide for turning good player evaluations into a plan of action, based on the strongest evidence available.
Here we go.
Rule No. 1: Exploit overconfidence by trading down
The Cowboys enter Thursday ranked 19th in total 2020 draft capital, according to our friend Lee Sharpe's analysis of Over The Cap trade values.
Think of these draft values as like a more accurate version of what the Jimmy Johnson trade chart is often used for. Over The Cap determined their pick values by looking at the second contracts that players at each draft slot from 2011 to 2015 were (or were not) eventually signed to.
This draft-capital picture suggests the Cowboys will start out at a disadvantage compared to their three division rivals. It also puts a lot of pressure on them to hit on pick after pick and avoid the busts that plague teams in nearly every round of the draft.
But there is another way the Cowboys could improve their chances of a good haul.
Perhaps the biggest slam-dunk decision the Cowboys can make this year is pulling off a good, old-fashioned trade-down—or, at the very least, avoiding the mistake of trading up.
If the Cowboys trade one of their early picks—especially the 17th overall selection in the first round—for a fairly normal return, they'll very likely increase their odds of improving the roster.
Trading down is easier said than done. You need at least one willing trade partner, and ideally more than one. But it's arguably easier to pull off than banking on consistently outsmarting other teams in personnel evaluation.
Teams have historically been willing to pay high prices for picks at the top of the draft, especially when considering the hit rates in later rounds.
This type of analysis was pioneered in a 2005 study by economists Cade Massey and Richard Thaler; re-examined in 2010 and 2016 by influential football analyst Brian Burke before he joined ESPN; explored from a salary-based perspective by the fine folks at Over The Cap; and built upon most recently by data scientist Timo Riske of Pro Football Focus.
The broad takeaway from each study is essentially the same: NFL teams place too much confidence in the reliability of their own player evaluations. This leads them to pay a steep premium for earlier picks in the draft, even if they're not taking a player at the critically important position of quarterback.
I want to focus on Riske's method in particular, since it is based on PFF's very compelling Wins Above Replacement metric. According to his approach, a team seeking to trade down from the draft's No. 1 overall pick should view a late-first-rounder as roughly three times as valuable as the popular Jimmy Johnson trade value chart has long suggested.
While teams have their own custom trade charts, the vast majority of draft trades at historic NFL prices can be reasonably expected to benefit the team trading down. Trading down allows a team to acquire more players, disperse the risk of a bust across more picks, and increase the pool of potential hits. At the league's going rate for draft picks, trading down makes a lot of sense.
To help visualize this, I pulled this chart from Riske's article: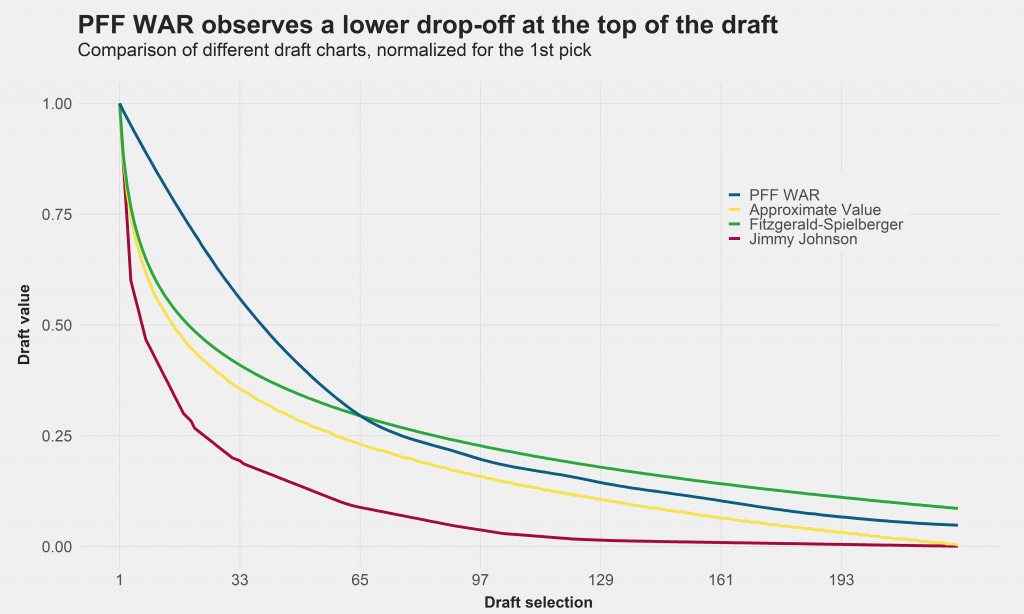 Note the gap between the Jimmy Johnson line (red) and the others. That gap illustrates the sheer profit teams can receive when they trade down from high picks. It's free money in a sea of uncertainty, and the Cowboys should take advantage of it if the opportunity presents itself.
Rule No. 2: It's only a 'need' if it's a high-impact position
I used to be a big believer in the "best player available" mantra.
If a team always picked the best player on its board regardless of position, I thought, then it will end up with the highest number of good players down the line.
There's some value to this line of thinking. Short-term needs should not always drive our long-term decisions. But a pure "BPA" approach does have a critical flaw: some positions are substantially more important than others.
In one of the most comprehensive efforts of its kind, PFF has released some early takeaways on positional value from its WAR model. I encourage you to read it if you haven't already.
A summary of the big picture from data scientist Eric Eager:
"[T]he further away from the ball a player plays, the more valuable they appear to be. After quarterbacks, wide receivers, defensive backs and tight ends have the highest average WAR."
These conclusions, which are built partly on comprehensive player grades, are consistent with other studies that suggest the passing game is more important than the running game, offense has more say over play outcomes than defense, offensive line play is only a part of what causes pressure, and effective coverage is more essential than a disruptive pass rush.
Riske has also delved deeply into which positions teams have had success drafting, and I'm drawing quite a bit from his findings here as well.
With these principles in mind, here are some positions the Cowboys should strongly consider targeting with one of their early picks:
Cornerback—Not only is corner one of the most important positions on defense, but Riske has found it's also one that teams are pretty good at evaluating, at least in the first couple rounds. The chances of drafting a non-contributor at corner in the first round are relatively low compared to other positions. It's also a big long-term hole for the Cowboys. After letting their best coverage player Byron Jones walk this offseason, they only have one experienced corner under contract for the 2021 season. Looking hard at a top corner prospect at No. 17—such as C.J. Henderson or later prospects they've expressed interest in like Trevon Diggs or A.J. Terrell—makes a ton of sense.

Wide receiver—Like most teams, the Cowboys most-used personnel package features three wide receivers. Randall Cobb's departure in free agency leaves an obvious hole in the team's most important unit, the pass offense. What's more, their top receiving threat, Amari Cooper, has had to play recently through plantar fasciitis and other painful leg injuries. If Cooper or No. 2 receiver Michael Gallup are unable to play at any point, there's a real chance that quarterback Dak Prescott will have to make do with multiple subpar weapons.

Safety—The Cowboys haven't invested a ton of resources in the safety position lately, but that may start to change under the new coaching regime. Just a few weeks ago, the Cowboys signed Ha Ha Clinton-Dix, and reports even suggest they could be eyeing a trade for one of the league's top coverage players in Jets safety Jamal Adams. Safety wouldn't be my favorite option to draft at No. 17, but Xavier McKinney or Grant Delpit would likely be a good use of draft capital.

Quarterback—I know this goes a little against the grain, but if you're into securing a backup at the league's most important position, and possibly grooming a valuable future trade asset, there's almost no wrong time to draft a quarterback. For the Cowboys, I'd consider taking one as early as the third round.
Positions the Cowboys should be hesitant to draft until later rounds:
Linebacker—Aside from an expensive trade up, the Cowboys being tempted by a high-profile linebacker would be my greatest concern heading into this year's draft. I've seen several well connected reporters suggest the Cowboys have real interest in a few possible first-round linebackers, including Kenneth Murray and Patrick Queen. My issue isn't with the quality of these players. Good linebacker play is useful—especially in pass coverage. But at the end of the day, the scope of a linebacker's influence on the passing game is limited compared to that of players in the secondary. They can often be neutralized in coverage by using play-action on early downs. And the dropoff from good ones to OK ones isn't as large as the same gap at other positions. This isn't a pick I want to see them make in the first three rounds, even if they're nervous about the health of their current starters.

Running back—I don't think a running back pick is really on the table for the Cowboys this year, at least high in the draft. This is probably for the best, given how much they've already invested in one of the league's least important positions.

Center—This is a tricky one for the Cowboys. With the unexpected retirement of Travis Frederick, center is an obvious "need" for Dallas, but it's not clear that the interior offensive line is a great use of an early pick. Offensive line play is a meaningful part of the passing game, but perhaps less critical than once thought. Quarterbacks, downfield receivers and coverage are major factors in the number of sacks a team allows, as the longer it takes for the QB to release the ball, the more likely it is that some portion of the offensive line will fail to hold a block. It's also worth noting that the Cowboys have probably been one of the luckiest teams in the NFL when it comes to drafting starting offensive linemen. That success isn't guaranteed to continue. NFL hit rates at the position are more hit-and-miss than what we've experienced in Dallas.
Rule No. 3: Don't get too attached to individual prospects
The Cowboys aren't going to draft your favorite player with the 17th pick.
That's probably fine.
There really is no "sure thing" prospect in the NFL draft, despite the difference in tone we use for describing blue-chip players with exceptional athletic ability and college tape.
If there were, the studies above would look much different, especially near the top of the draft.
Even the NFL All-Pro team—the closest thing we have to a consensus "best player" at each position—consists of players taken throughout the draft process.
None of the players on the first-team All-Pro list of 2019 were taken in the Top 5 picks of their respective drafts. Only four of the 2019 All-Pros on offense and defense were selected in the Top 10.
My point here is that if the Cowboys personnel department thinks a player is good enough to select with their first pick, the name they choose is probably less important than the player's position and the process they used to get there.
The Cowboys could draft a great linebacker, for instance. But that would do relatively little to patch their long-term deficiencies in the broader pass coverage unit, where games are more consistently won and lost.
Alternatively, the Cowboys could end up with merely a reliable starter at an important position like wideout or safety. Even if this player never becomes a star, I'd argue it would be a good use of a top pick.
Unfortunately, we're simply not good enough yet at predicting which players are going to translate best from the college game to the pros. Uncertainty rules the NFL draft process.
But analytics-based decisions can help teams navigate that uncertain environment more effectively.
Analytics won't guarantee the Cowboys will pick all the right players. It won't prevent their highly regarded picks from going bust.
But what an evidence-based approach can do, as it has in other sports, is help them play a better round of poker with the hand they're dealt. And over time, that edge can make a very real difference.
Bonus: Fun draft resources
PFF mock draft simulator—This is one of the best mock draft tools out there, with post-mock grades for each pick that are based on a lot of the principles in this article.

Grinding the Mocks—See how each player's perceived draft stock has changed over time, according to a variety of public mock drafts.
Photo credit: "File:2011 NFL Draft stage (5668477546).jpg" by Marianne O'Leary is licensed under CC BY 2.0