Revisiting the Dez catch at Lambeau. (I'm sorry.)
5 years later, was slinging it downfield on 4th and 2 the right call?
Today marks the five-year anniversary of one of the darkest moments of my sports life.
I've rewatched the play more times than I can count. Tony Romo takes the snap on 4th and 2, trailing by 5 points at Lambeau Field in the divisional round of the 2014-15 playoffs.
It's been one of the best seasons of Romo's career, and this is probably its most important moment. He gives a quick glance to the middle of the field, where Witten is bracketed by two Green Bay defenders. Cole Beasley is given space a bit further to the right in one-on-one coverage.
But Romo very quickly commits to where he's going with the ball. He probably knew before the snap.
With the season on the line, Romo slings it 27 yards downfield to a streaking Dez Bryant in single coverage. It's one of the things I most admired about Romo, and something he did time and time again over his thrilling Cowboys career: He wasn't afraid to take risks from trailing positions in an effort to maximize his team's chances of winning.
For Romo, it often worked. It should have worked here.
But officials reversed the call on the field that the play was a catch. I won't relitigate that decision at length here. (I believe to this day it was wrong, and that Bryant made a football move when he extended the ball toward the goal line.)
However, after a nudge from The Athletic's Bob Sturm earlier today, I may be emotionally ready to explore another question.
Would targeting Beasley (No. 11 below) just beyond the sticks have been a better bet than giving Bryant a shot near the goal line?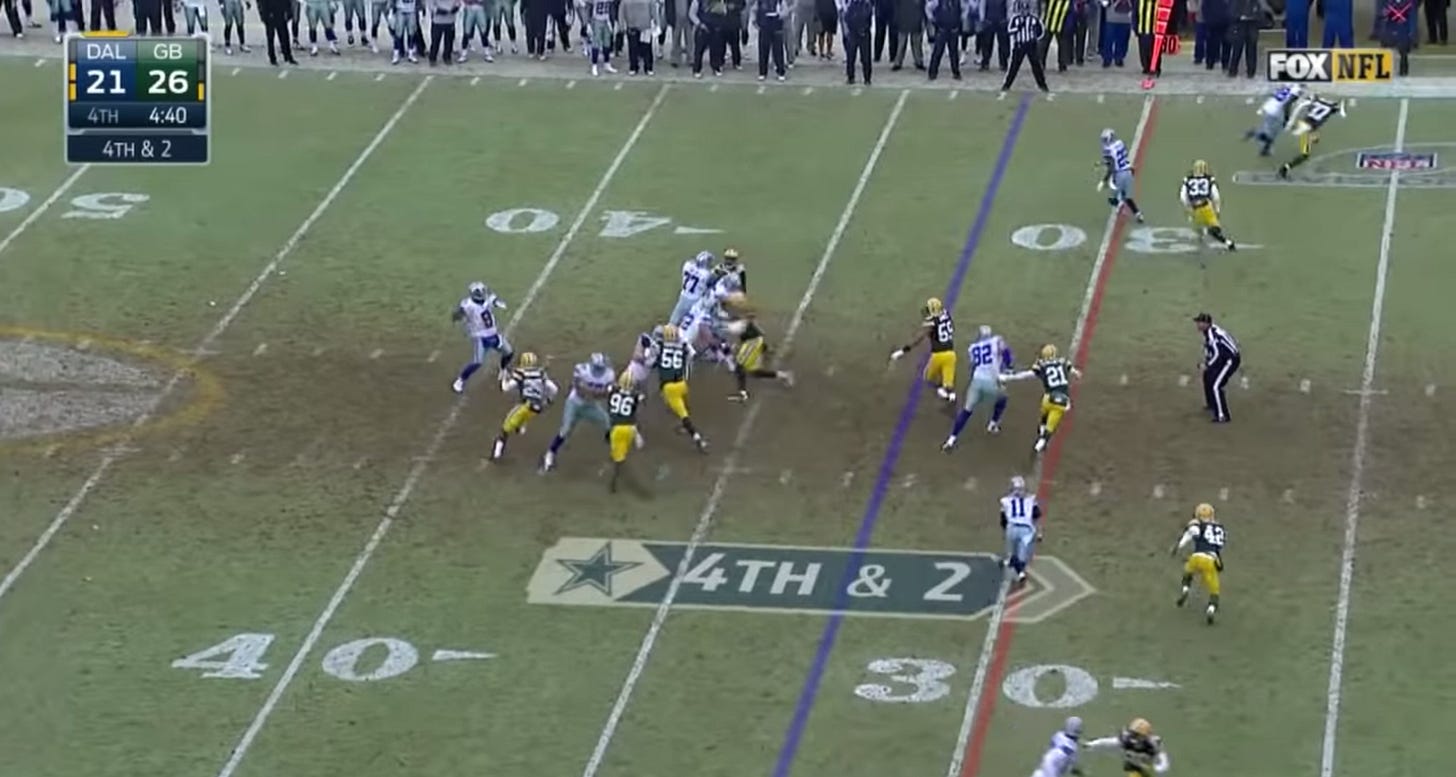 Risk and payoff downfield
This is admittedly a difficult question to answer, but I'm going to try my best to frame Romo's decision in terms of risk and reward.
Reasonable people will—and should—disagree about whether the historical situations I'm looking at here accurately reflect the odds of success on this particular play.
Don't draw strong conclusions from this yet, but here are my best guesses of the odds of completing a pass on 4th and 2…
…4 yards downfield to Beasley—69% chance of completion

…27 yards downfield to Bryant—36% chance of completion
How did I arrive at these numbers? Using data from the 2009-2019 seasons, these were the actual NFL completion rates in the following situations: passes that traveled 4 yards through the air on 3rd- or 4th-and-2, from any yard line; and passes that traveled 25-30 yards downfield in those same situations.
There are obvious issues with this approach. Sample size is certainly one of them.
But there are others.
Beasley, for instance, is "open" by his standards across the middle, perhaps moreso than the typical receiver is when targeted just beyond the sticks on 3rd or 4th down. He also had an exceptionally accurate quarterback throwing to him. Might Beasley have moved the chains more than 69% of the time, had Romo gone his way?
On the other hand, I could see Bryant's route being either underrated or overrated by this approach.
While most 25-to-30-yard passes on a do-or-die down are probably thrown into single coverage, like Bryant faced here, it's unlikely there was a better pair to complete this particular pass than Romo and Bryant.
The two had a special connection, especially when throwing near the goal line, as you can see in this chart from Josh Hermsmeyer's fantastic data resource, airyards.com.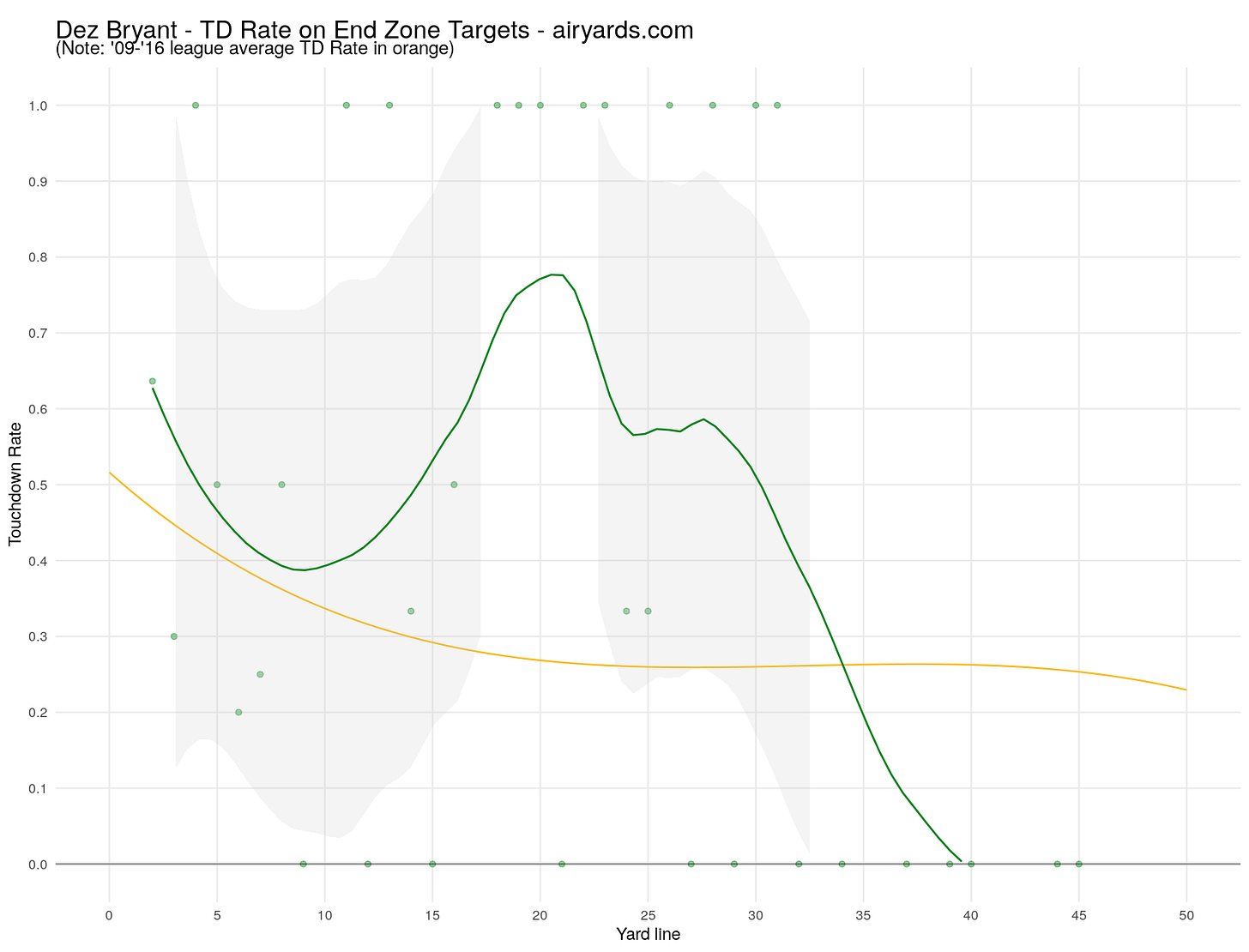 That said, selection bias could also be inflating the 36% completion rate we've seen in these situations. Quarterbacks are loathe to take these kinds of risks on fourth down unless they see a guy running pretty open. Was Bryant's catch more contested than most of the downfield passes we see in these situations?
These substantial caveats aside, I think we've got a defensible estimate of how difficult it would be to complete each pass available to Romo at the time.
Now for the other part of the equation: the potential payoff of each option.
Using nflscrapR's win-probability model, here were the Cowboys' rough odds of winning the game after each hypothetical play outcome on the 4th and 2, assuming there are 4 to 5 minutes remaining in the fourth quarter:
After an incomplete pass—18% chance to win. (This is what happened.)

After a completion to Bryant—52% chance to win. (This is what officials should have allowed to happen.)

After a completion to Beasley—37% chance to win. (This was Romo's other option.)
It's obvious the payoff would have been significantly higher with a successful throw to Bryant than with a completed pass to Beasley. This model helps us answer the question, "how much higher?"
The better risk
Now we have the main info we need to make a decent run at answering our question.
Here is the Cowboys' expected win probability, given the odds of success…
…when targeting Beasley 4 yards downfield on 4th and 2—31% chance to win

…when targeting Bryant 27 yards downfield on 4th and 2—24% chance to win
So Beasley's route was probably the better risk for Romo to take, accounting for the payoff of success and chances of completing the pass.
In other words, attempting the pass to Bryant—even before knowing the outcome of either option—may have cost Dallas nearly a quarter of its remaining chances of winning.
This result is even more interesting because both options would have given Dallas roughly the same chance of scoring a touchdown on that drive, according to nflscrapR's expected-points model.
This is because Cole Beasley's route was roughly twice as likely to succeed, even though it was half as likely, if successful, to ensure the game's next score would be a Cowboys touchdown.
The main difference between the two options, at the end of the day, appears to be the amount of time that would have been left on the clock. (Score one for Bob.)
Bryant's catch right at the goal line would have left more time on the clock for Aaron Rodgers to mount a game-tying or -winning drive. Beasley moving the chains wouldn't have guaranteed the score they needed; however, in a world where they did find a way into the end zone after a Beasley reception, there would have been less time for Rodgers to work with.
With all that said, I don't envy Romo's task of weighing that risk in a split-second timeframe with the biggest game of his career on the line.
Final thoughts
OK, so maybe the numbers suggest Romo might have been better off taking the easier throw.
But that wouldn't have been Romo.
Time and time again, we watched this guy take risks that brought the Cowboys back into games they had no business winning. Sometimes these risks resulted in game-ending interceptions—the type of clip you'd see played over and over the following week on SportsCenter, as if it could possibly define his legacy.
More often, though, Romo's risks put the Cowboys in the best position to come back from a deficit.
When I think of Romo's pass to Dez at Lambeau, I still remember the thrill (and terror) I felt when I realized he wasn't just going for the first down. He was going for it all. Because that's who he was.
It turned out to be Romo's last real chance at postseason glory.
He went out his way: slinging.
(And Dez caught it.)