Hearing out McCarthy: How likely is he to implement his analytics plan?
The new Cowboys coach was often ahead of the curve in Green Bay.
No matter how skeptical you are of Mike McCarthy's commitment to analytics, we have to acknowledge the way he's talked lately about data in football represents a step forward in Dallas.
NFL coaches have, until recently, largely downplayed the role of statistical analysis in football.
Some coaches give lip service to analytics, even as they fail to take advantage of the lowest-hanging fruit that data analysis has to offer. Others—such as a recently hired Giants offensive coordinator—are openly dismissive of incorporating analytics into their game-day decisions.
So far, the new Cowboys head coach has been more openly supportive of using analytics on game day than his predecessor.
"The third-party analytics in our business now are better than ever," McCarthy told Peter King in a December article. "There's some great companies out there that are giving you great information. But the real test is how to utilize it."
Before the Cowboys hired him, McCarthy laid out what I think is an impressive, detailed plan for beefing up his future team's analytics staff.
But how likely is it that McCarthy will follow through on this plan—and, importantly, actually implement the suggestions of this expanded data team? Some have suggested that McCarthy's track record is not one that would lend itself to a sincere interest in football analytics.
I delved into his tendencies with the Green Bay Packers and found some reason for optimism.
Adding value through coaching
Before examining McCarthy's tendencies as a coach, I wanted to touch on the value he brought to the Packers offense.
This was a common subject of debate near the end of McCarthy's tenure in Green Bay. With quarterback Aaron Rodgers at the height of his powers through 2014, some have wondered how much McCarthy contributed to the team's prolific postseason appearances—particularly as the team began to struggle and Rodgers began his decline from elite to simply good.
There's little doubt in my mind that Rodgers' on-field contributions were the most important factor in the team's successes over the years.
But good coaching can add significant value too. And it appears that for years, McCarthy put his QB in a position to succeed more effectively than almost any other coach did, according to a playcalling metric developed by Pro Football Focus.
The metric takes PFF's comprehensive player grades and then assesses which offenses' on-field results—as measured by EPA—are consistently outperforming what we'd expect based on those player evaluations.
In my opinion, Expected Points Added is the best raw value stat available to the football-viewing public. Offenses that consistently accumulate positive EPA are moving the chains and putting themselves in a better position to score next, after accounting for down, distance and field position.
Until 2013, McCarthy's offenses were consistently adding value well beyond what you would expect from an offense with similar player grades, PFF data scientist Eric Eager said in the Twitter thread linked above.
After that point, the positive contributions we can attribute to Packers offensive coaching appeared to fall off. Perhaps this supports the narrative that McCarthy fell into some kind of rut near the end of his time in Green Bay.
Regardless, McCarthy will have to find ways to refresh his approach—as all coaches must each offseason in this rapidly changing league.
I remain convinced that data analysts can help McCarthy—and just about any coach who is open to them—gain a series of edges that can amount to multiple wins per year.
Let's take a look at what McCarthy seemed to get right in Green Bay.
Ahead of the curve
In a couple key ways, McCarthy appeared to be out in front of most of his NFL peers.
There are two actionable proposals for coaches that football data researchers are arguably most confident in. The first: Teams aren't passing nearly enough in most first- and second-down situations. The other: Coaches are far too willing to settle for punts and field goals on fourth down.
Intriguingly, McCarthy in Green Bay appeared to display a natural affinity for both of these principles.
Going back as far as we can using nflscrapR's win probability model, it's clear McCarthy presided over one of the most pass-inclined offenses on 1st down or 2nd-and-5+ in close games.
McCarthy also oversaw one of the league's most aggressive teams on 4th down when the game was still in reach for both teams.
Only the Saints, Eagles and Patriots rivaled or surpassed McCarthy's Packers in their commitment to these two principles over a nine-season span. (Perhaps not incidentally, these four teams had good-to-great quarterbacks and combined to win six Super Bowls in that time.)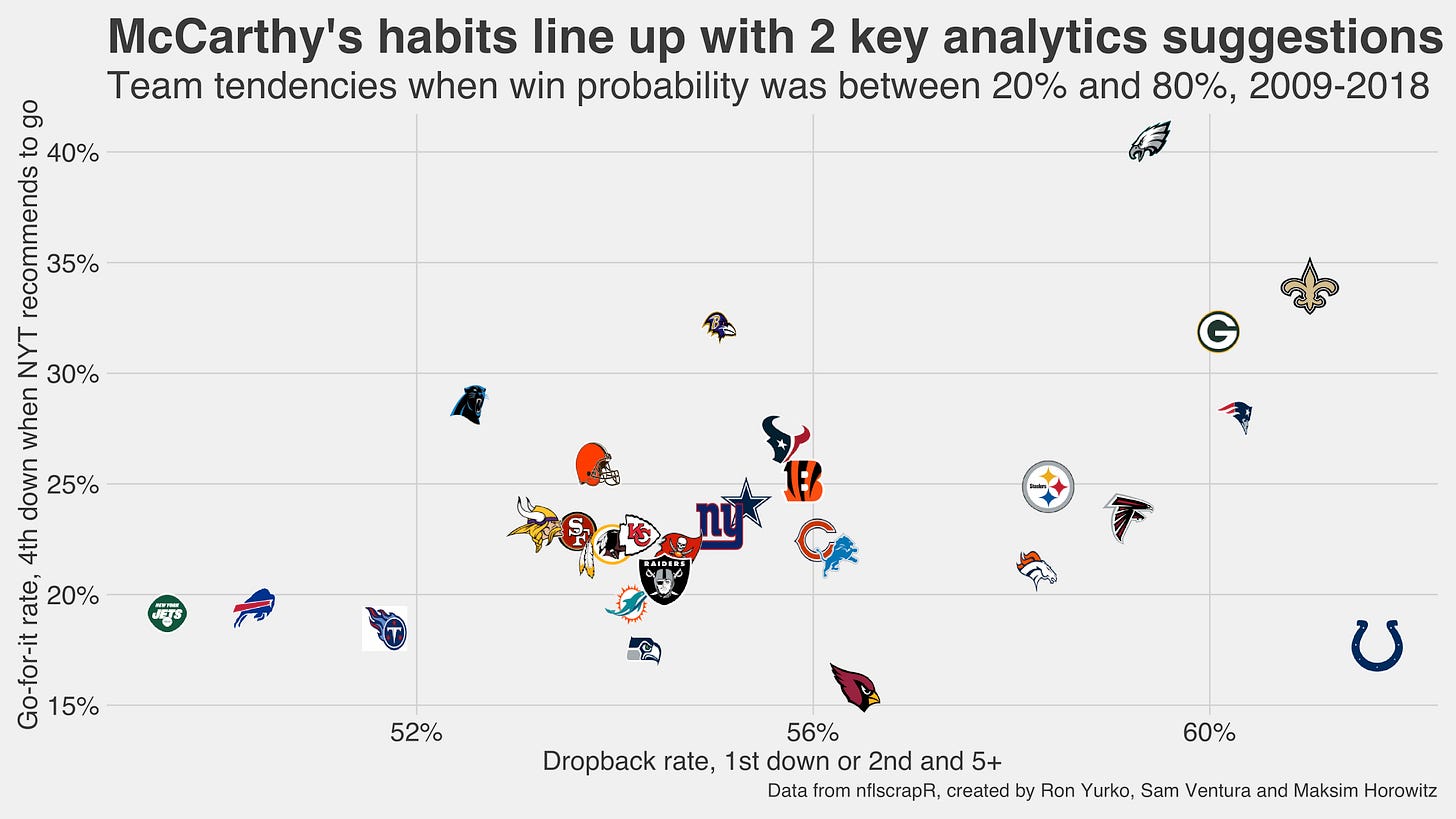 If you want a reason for optimism that McCarthy's stated openness to analytics might be more than just words, this is it.
Not only was Green Bay among the teams most willing to lean on their quarterback in neutral situations, but McCarthy was among the most aggressive coaches in the league on 4th down.
Now, I'm not saying McCarthy was doing this because some nerds told him he should. It's more likely that this reflects his underlying philosophy about the game of football.
Besides, there's a lot of room for improvement still. McCarthy may have been one of the most aggressive coaches on 4th down, but that's not saying much in the conservative world of the NFL. Two-thirds of the time, when the Times model suggested McCarthy go for it, he punted or brought out the field-goal unit.
But I choose to take McCarthy's coaching tendencies together with his words as a positive sign for a potential expansion of analytics in Dallas.
A successful coach, after all, would be more likely to listen to data analysts and implement their suggestions if his instincts and subject knowledge are already consistent with a pro-pass, aggressive approach.
An evolving coach
During his season off, the former Packers coach famously visited the offices of Pro Football Focus, one of these third-party companies that works with NFL teams and has recently done some of the most compelling public research in football.
McCarthy said he emerged from these meetings armed with better tools for situational tape study. At some point along the way, he also compiled a plan for a new, 14-person technology team, which includes eight football analytics staffers.
One job title—coordinator of mathematical innovation—stood out to me as particularly promising, if the Cowboys are going to be open to new ideas based on large datasets.
From Peter King's report:
The mathematical innovation hire will be crucial. "This guy here has to see the world differently," McCarthy said, pointing to that job on the flow chart. "He will be very, very important."
My understanding is that the Cowboys already have a small but talented analytics team that focuses primarily on health science and other applications of player-tracking data. They also hired a Big Data Bowl finalist in 2019 whose submission focused on identifying coverage and route concepts using tracking data.
Time will tell if the Cowboys organization follows through on expanding this team. As the Ravens showed the NFL this season, there's a lot to gain by being one of the earliest adopters of optimized situational decision-making.
In addition to the possible investment in analytics, McCarthy's decision to retain offensive coordinator Kellen Moore adds a layer of intrigue to what this offense might become under a collaborative approach.
In a future piece, I plan to take a data-driven look into how the Cowboys might make best use of the principles in McCarthy's West Coast offense and the promising priorities we saw from Moore in his first season in Dallas.
If you're interested in this way of looking at football and want to help support this project, you can sign up for this free Cowboys newsletter at the blue button below.